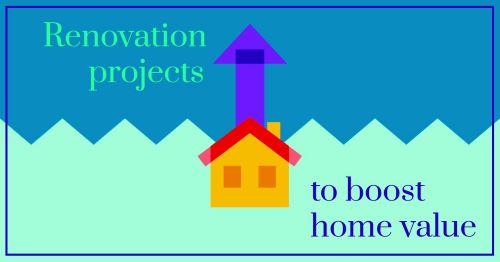 The best renovations and home improvement projects enrich the space while also increasing the value of your property. Here is a basic guide to help you boost the resale value of your home with the right repairs.
Add value to your home with the right updates
Start by freshening up the paint on your walls. New paint can help smooth over scratches that have appeared over the years. It can also give the space a clean aesthetic. Keeping your color palettes neutral will appeal to a wider range of buyers.
Curb appeal is another important area to focus on. For example, replacing a worn front door with a new steel one. Small home renovations can improve your home appearance and in turn catch more attention.
What renovations can decrease home value?
When upgrading your home, be careful of adding overly unique or trendy upgrades. Adding a large concrete statue in the front yard might suit your tastes, but could turn away potential buyers. It's best to keep things neutral when selling your home.
What increases value to a property as a whole?
When planning your home improvement projects, think about what potential buyers are searching for. Start by identifying outdated areas of the home, like flooring and fixtures. Creating a clean and warm atmosphere is also essential. Make the house feel like a home.
Sweat equity
Home repairs can be tedious, but the right amount of sweat equity can go a long way. Sweat equity refers to the emotional and physical effort put into something. Once you put together a list of home improvements needed, you can put in effort to get it done.
Upgrade your outdoor living space
Your yard is an extension of your home. Enhancing your outdoor space can improve the appeal of your area and significantly boost home value. One common upgrade is fixing or adding a patio. A patio provides a comfortable place to enjoy the outdoors.
Also consider adding an outdoor fire pit to complement your patio. Fire pits give warmth and will give a cozy vibe to your yard.
Budgeting for renovations to increase your home's value
When budgeting for home renovations, consider your current financial status. Financing is a great option if you need larger amounts of funding. You can pay this off monthly, however, it may come with interest. If you pay out of pocket, you forgo owing anyone money, but it can be a strain financially.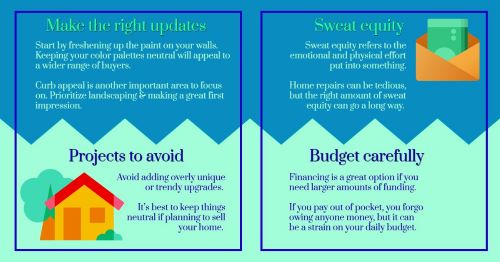 Remember, some of the best home improvements aren't complex or pricey. Many simple upgrades can enhance the vibrancy of your home. If you wish to sell your property, local real estate professionals can assist you in choosing the most valuable upgrades to consider.